Danish Plant Bugs (Miridae)
Latest version published by Danish Biodiversity Information Facility on Apr 28, 2015 Danish Biodiversity Information Facility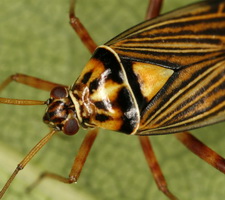 Database of specimens of Danish Plant Bugs (Miridae). The specimens are deposited in Natural History Museum of Denmark. The collection comprises more than 11.000 pinned and mounted specimens. The main contributers are: S. Gaun, L. Skipper., H.T. Schmidt, og C.C.R. Larsen. The registration and digitation has been carried out by Lars Skipper.
Data Records
The data in this occurrence resource has been published as a Darwin Core Archive (DwC-A), which is a standardized format for sharing biodiversity data as a set of one or more data tables. The core data table contains 11,392 records.
This IPT archives the data and thus serves as the data repository. The data and resource metadata are available for download in the downloads section. The versions table lists other versions of the resource that have been made publicly available and allows tracking changes made to the resource over time.
Downloads
Download the latest version of this resource data as a Darwin Core Archive (DwC-A) or the resource metadata as EML or RTF:
| | |
| --- | --- |
| Data as a DwC-A file | download 11,392 records in English (238 KB) - Update frequency: unknown |
| Metadata as an EML file | download in English (7 KB) |
| Metadata as an RTF file | download in English (7 KB) |
Versions
The table below shows only published versions of the resource that are publicly accessible.
How to cite
Researchers should cite this work as follows:
Skipper, L. (2015). Danish Plant Bugs(Miridae). Specimen Collection, Natural History Museum, Aarhus, Denmark.
Keywords
Miridae; Plant Bugs; Blomstertæger; Heteroptera; True Bugs; Tæger; Hemiptera; Insecta; Arthropoda; Animalia; Europe; Denmark; Occurrence; Specimen; Lars Skipper; The specimens are deposited in Natural History Museum Aarhus(NHMA); Miridae; Plant Bugs; Blomstertæger; Heteroptera; True Bugs; Tæger; Hemiptera; Insecta; Arthropoda; Animalia; Europe; Denmark; Occurrence; Specimen; Lars Skipper; The specimens are deposited in Natural History Museum Aarhus(NHMA)
Contacts
Who created the resource:
Who can answer questions about the resource:
Who filled in the metadata:
Lars Skipper
Project leader (www.allearter.dk)
Danish Biodiversity Information Facility (DanBIF)
Natural History Museum of Denmark, Universitetsparken 15
2100 Copenhagen
DK
lars.skipper@get2net.dk
Geographic Coverage
Denmark (terrestric)
| | |
| --- | --- |
| Bounding Coordinates | South West [54.69, 7.75], North East [57.85, 15.32] |
Taxonomic Coverage
Animalia,Arthropoda,Insecta,Hemiptera,Heteroptera
| | |
| --- | --- |
| Family | Miridae (Plant Bugs) |
Temporal Coverage
| | |
| --- | --- |
| Start Date / End Date | 1870-07-12 / 2012-09-01 |